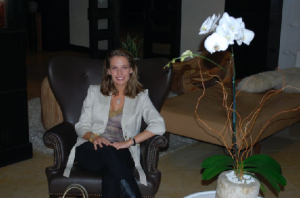 International—it's in both the name and the style of MDesigns International, the creative and innovative interior design firm of Monica K. Alarcon. Her firm is client-centered, taking their dreams and practical needs and creating something fit for a resort, and in fact, many of her previous projects have been with discerning clients interested in creating a luxurious ambience in their restaurants and resorts.  MDesigns International focuses on fostering balance in the lives of the individuals who live and work in the spaces they create, and works with both homes and businesses to design an entire lifestyle experience—up to and including beautiful pianos and uniquely designed saltwater tanks.
Project inspiration is taken from around the world and from the natural beauty found there. Alarcon's love of floral and geographic sights translates into a use of lots of curved lines in her use of accessories, as well as bringing the outside indoors with flowers, terrariums, and art that hints that the world inside the home is just a continuation of the beauty beyond the doors. Her work extends there as well—her portfolio features a project from Cartagena, Columbia, with a swimming pool and landscape designed with just as much attention paid to classic beauty and the sturdy elegance of a South American home.
A philosophy Alarcon espouses at MDI is that "Each home has its own unique 'soul'—spatial  energy that brings to life the balance of the client's lifestyle needs and desires." This principle guides her hand as she brings together the colors and themes to turn each room and living space into an individualized work of art. In addition, there is a boutique of home décor assembled by the firm in the works.
The design team at MDI is no less international than the creativity they employ, bringing their experiences and contacts from all over the world, and opportunities in Atlanta, California, Mexico, Canada, Colombia and Argentina. The firm can be found online at www.mdesignsinternational.com.
by Kathryn J./ CommonCreativ