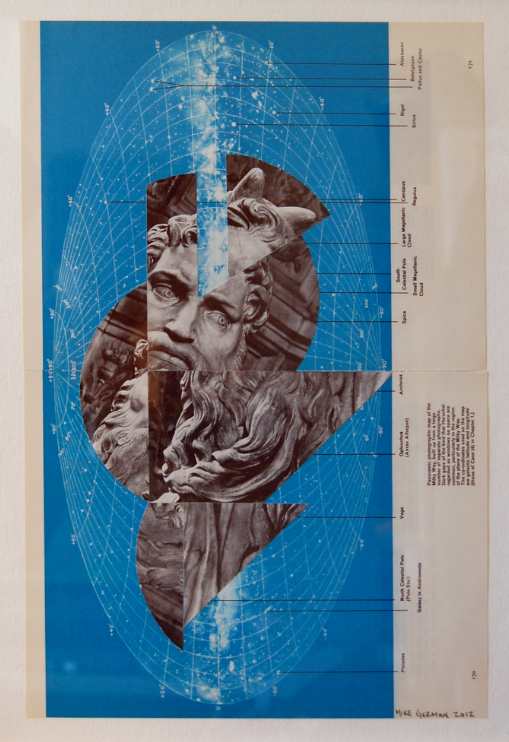 The concept of science vs. religion can be debated about ad nauseum. Artist and Atlanta-native Mike Germon has chosen to take a different approach—by exploring the controversial subject through art.
His collages feature religious iconography, mummies and statues set against unexpected backdrops like planets, outer space, giant geodes and more. Germon's ability to tackle a controversial subject matter in a way that is as subtle as it is beautiful has gained the artists a cult following among the local arts scene and beyond—he's expanded into installations using objects like furniture and artificial butterflies at events like Streetela, clothing through screen-printing selected pieces onto T-shirts, and has hung his work in galleries like Beep Beep, White Space and MINT (where he is the gallery manager).
Here, Germon spoke to CommonCreativ about his artistic process, what's next for him and why he makes art.
CommonCreativ: Where are you from?
Mike Germon: I grew up in Atlanta just outside of Decatur, went to school at the University of Georgia in Athens, then came back and lived in Poncey-Highland for a few years.
CC: You're the gallery manager at the newly reopened MINT Gallery, a designer for Fallen Arrows and you freelance sets and props. That's a lot of gigs.
MG: Yeah, the gallery manager gig at MINT means I curate a lot of the shows and help organize and coordinate the others. For the past couple of years, I've been doing some design work and helping out with other projects at Fallen Arrows. They're the print shop I've used for my T-shirts, so we already had that relationship. As for art department work, it's been a few years since I've worked on any film or television. I actually do most of my work on commercials, which isn't as exciting from an outside perspective, but it's a lot of fun.
CC: Does Atlanta inspire your work?
MG: I think it does a little bit. Consciously, I'll occasionally reference things that are specific to Atlanta or Georgia. But more than that, I think I'm influenced by specific local design trends or artists who show around town. I'm constantly observing and absorbing the creativity in Atlanta through art openings and concerts.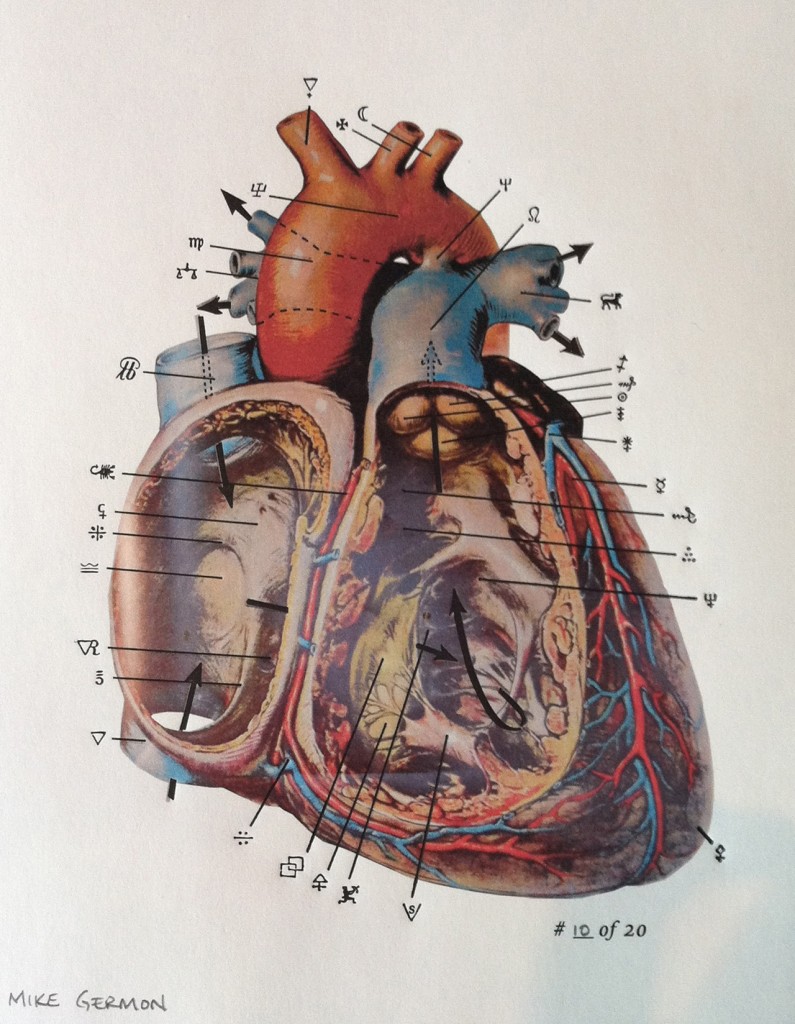 CC: There's a lot of science and religious imagery in your work. What about those themes inspires you?
MG: For me, they're two sides of the same coin. Science and religion both seek to understand, explain and, in a way, explore the unknown. Exploration is a common theme for my work, often depicted in a literal or physical sense—like space travel, but representing something more intellectual or spiritual. I see science, religion, and art as being historically intertwined and often more compatible than society acknowledges. Apart from any conceptual reasons, I also find religious and scientific imagery to be some of the most beautiful source material available.
CC: What's your artistic process?
MG: It varies from piece to piece, but I usually go through a couple of phases. First is collecting source material. I've got a lot of old books collected at this point, but I like to go out to thrift stores and dig around for textbooks or whatever. Then there's a period of going through and cutting things out; sometimes I'll get ideas from one image that will prompt me to seek out another specific image. Other times I'll grab anything interesting and then come back to it later. Usually, by the time I've gathered a bunch of imagery, I'll have some specific ideas about how different pieces will interact with each other. At that point I just start grouping things together, moving them around and considering compositions. Some pieces will begin as more of a design, and with others the content will come first. There are no strict rules that I follow, just habits and whims.
CC: What do you think about Atlanta's current art scene?
MG: I've watched Atlanta's arts scene energize of the past few years, and most notable is how it is in a constant state of fluctuation. There have been a number of high-profile gallery closings recently, but always met with a low-profile space popping up under the radar. The one thing that I'm most impressed with is the fact that there are whole factions of spaces and artists that I'm not interested in at all, but I'm still overwhelmed with opportunities to show work or see new shows—the scene is that vast. Arts in Atlanta are more varied and abundant than most give credit.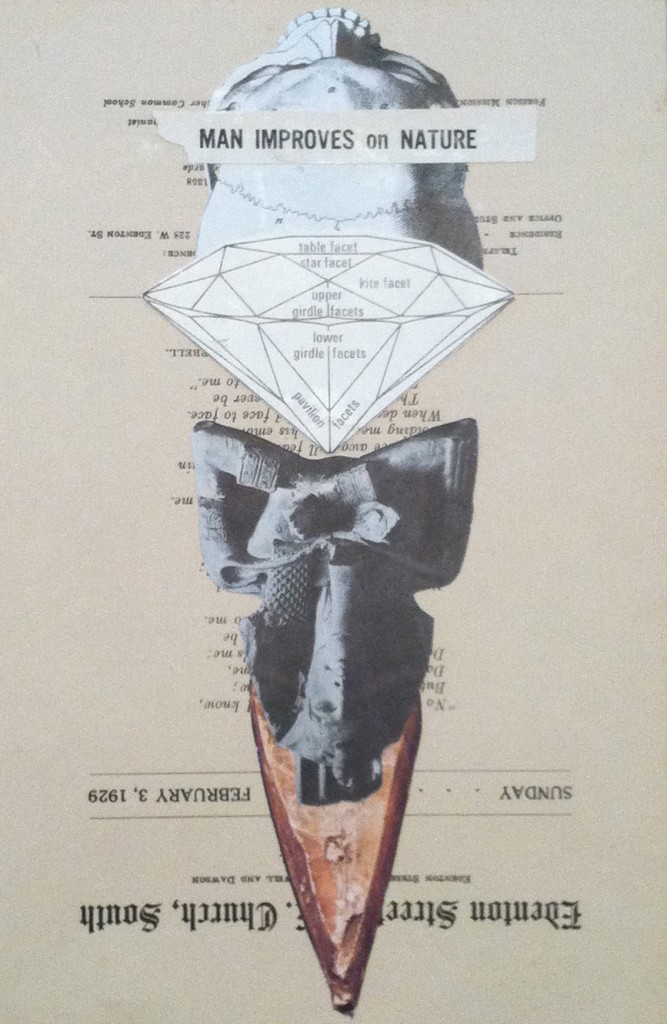 CC: Who are some of your favorite local creatives right now?
MG: A few artists that really inspire my own work are BORN, Brian Dettmer, Joe Tsambiras and Nikita Gale. I'm always excited to see new work by artists like Sam Parker, Chelsea Raflo or Steven Dixey, and musicians like Social Studies, Brittany Bosco and Adron—also guys like Ken TwoFour, Evereman and Catlanta, who really kick-started the whole movement of scavengable art that has taken off lately.
CC: What's on the horizon for you in 2013?
MG: I plan on releasing a new print every month. The plan is to experiment with different processes and avenues of creativity. MINT Gallery [just opened up] its new space, so we've been getting shows together for the new year. I recently did a poster for the upcoming Little Tybee album that will be included in a show with other posters by Atlanta artists.  At Fallen Arrows, we've got a T-shirt line based on some graphics I developed that will have an accompanying art show I'm curating in late February. I'm also hoping to drop a new collection of my Accelerated Expansion [clothing] line sometime in the spring. My big focus this year is a two-person show at Beep Beep Gallery with Chelsea Raflo this summer.
CC: Why do you make art?
MG: Given the option, why would I want to do anything else? There's really no other experience like creating. If I didn't make collages, it would be music or food or furniture.
CC: What's one of the best moments art has led you to?
MG: I guess in a way, being involved in art has led to the birth of my son, Arrow. Hard to beat that.