Our writer Elaina Lonidier checked out this summer's award-winning General Orders No. 9, an independent film that was reviewed by Creative Loafing as  "a meditative tone poem the combines Southern nostalgia, folklore, history, and anecdotes with striking landscapes and picturesque imagery, defies simple description—the best I've seen is Hammer to Nail's Michael Tully who wrote that film made Terrance Mallick's Tree of Life "look like a spright shot of Hollywood." Check out Elaina's thoughts on the film!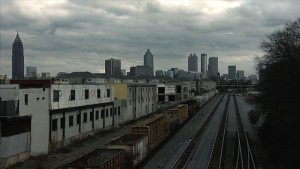 The county is in the center of the state.  The town is in the center of the county.  The courthouse is in the center of the town.  It is the echoing of these words that are heard throughout this experimental documentary from a new school that has been slowly populating over the years.
General Orders No. 9 isn't a typical work of this genre for isn't built upon multiple documents; but rather, one solitary elongated poem.  The audience is guided along with spoken word starting with camera shots of tranquil and unadulterated land–a Georgia without state borders and thriving with the Cherokee.  It begins moving inward, navigating the timeline, as the narrator declares that the courthouse is where the downfall of Georgia's land begins.  The rural counties grow exponentially with dire need of order and transportation.  The poet goes on to say that the need of the interstate births a cold and mechanic city.  "It bears no marks of being a place…but all of those of a machine."  As the demonization of the city is told with the poet's robust southern speech, the visuals from camera shots show a drab and institutional urban landscape.  There are empty warehouses, vacant offices and hotels, and a plethora of construction that consume every square foot of Georgia's capital as if it were a soulless monster.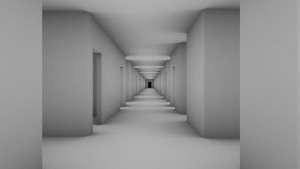 In contrast with these frames, the audience is taken out of the city and into rural Georgia where there is green space, live stock and dilapidated housing.  Despite the clear agenda of this particular film, one of the nuances of this classification of documentaries is that some of the visuals are ambiguous and are left to the viewer to decide what is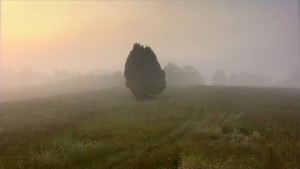 tranquil, mechanical or destitute.  Many may resent the idea of rural living being more righteous than being a city dweller.  But however one decides to place value or context on the visuals, the message is clear:  Georgia may have been a more beautiful place–just like any area–but we owe it to ourselves to learn about the history of our home.  We need to venture out of the traffic and concrete and into the flora and fauna of our homelands whether we agree with out nostalgic storyteller or not.
By Elaina Lonidier/ CommonCreativ